Agriculture and Beaufort PDO
Grazing on the ski slopes
Mountain agriculture requires a particular know-how. The maintenance of the meadows, the mountain pastures, the milking of the cows in altitude, the manufacture of cheeses... Agriculture is still very present in Bonneval sur Arc.
While grazing the meadows all summer long, cows and sheep enjoy the herbs and flowers that give all their flavors to the cheeses but also contribute to the quality of the... ski slopes! Part of the pastures become ski slopes in winter.
Grazing in alpine pastures allows the vegetation to regenerate year after year. The quality of the grass means that the snow "holds" better in winter, which makes it easier to prepare the slopes.
All year round, meet the farmers, the herds in the mountain pastures and taste the quality products made by passionate mountain people.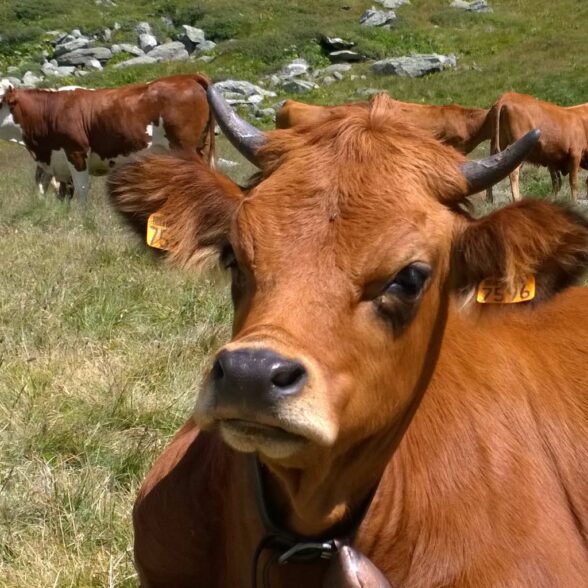 Sheep and patous in the mountain pastures
During your hikes, you will also regularly see sheep enjoying the mountain grass. However, keep your distance, the flocks are guarded by shepherds but also by patous dogs that can perceive you as a threat if you get too close or if you cross the flock.
The Beaufort
also called "Prince of Gruyères" is produced from raw, whole milk. Since 1968, it has been awarded the Appellation d'Origine Contrôlée (AOC ) label, which imposes very strict specifications, including regular checks on the milk producers and a minimum maturing period of 5 months.
It comes in the form of a wheel weighing about 40 kg, 11 to 16 cm high and 35 to 75 cm in diameter with a concave heel. Its paste is smooth and ivory to yellow in color. It is initially firm in the mouth and then melts.
10,000 wheels of Beaufort cheese are produced each year by the Haute Maurienne Vanoise Cooperative. Each of them is made on site in Val Cenis-Lanslebourg with the 5 million liters of milk collected annually from Modane to Bonneval sur Arc. Alpine Beaufort, Summer Beaufort and Winter Beaufort delight the taste buds of the most discerning gourmets!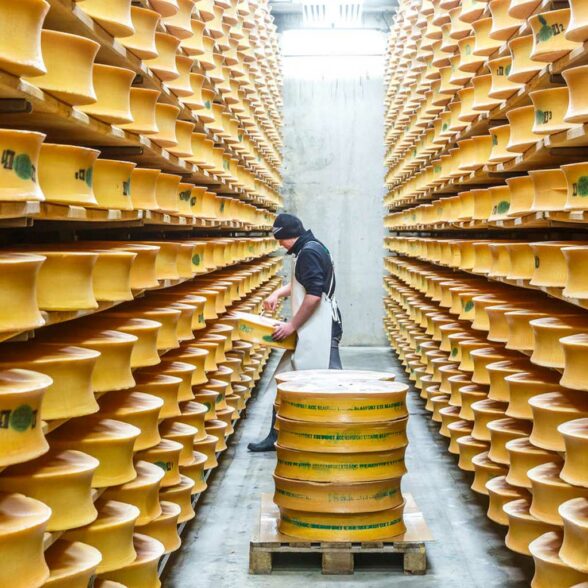 Visit to the Haute Maurienne Vanoise dairy cooperative
Throughout the Haute Maurienne Vanoise, several mountain pasture farms welcome you. The cheese makers, the alpagists and the farmers will make you discover their life, hard but beautiful, and their products. They will gladly tell you about their job, milking, haying, calving, patous, wolves...
All year round, it is also possible to visit the Haute Maurienne Vanoise dairy cooperative in Val Cenis-Lanslebourg. Visit by reservation in the morning with discovery of the Beaufort cheese making, visit of the maturing cellars and tasting. Free visit in the afternoon.
> The official website of the Haute Maurienne Vanoise Dairy Cooperative