The Vanoise National Park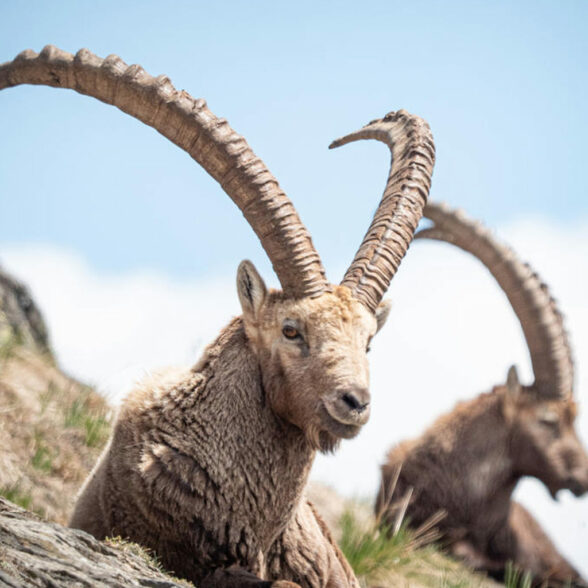 Protected fauna and flora
Enchantment and emotions, it's the Vanoise National Park!
Enjoy this haven of peace, far from any pollution, appreciate the calm, the silence, the pure air. Discover this remarkable environment accompanied by a park ranger or a mountain guide, and learn more about the fauna and flora.
Embellish your mountain vacation journal with photos of marmots, ibexes, lakes, snow-covered peaks and... blueberry pie eaten on the terrace of a refuge!
This preserved area, mostly on the territory of Haute Maurienne Vanoise, was founded in 1963 thanks to Gilbert André, then mayor of Bonneval sur Arc. The central zone, called "heart", is a protected area with regulations favoring the biodiversity of landscapes, environments, species and preserving the cultural and mountain heritage.
In a few steps, you are in the heart of the first national park of France. Together with the Italian Gran Paradiso National Park, they form one of the largest protected areas in the Western Alps. But what does it matter what you say? The important thing is to open up a territory of rare experiences. A breathtaking landscape between peaks, lakes and deep valleys. An incredible diversity of flora and animals in their natural environment that you can approach, marmots, ibex, chamois, bearded vultures...
Mountaineering, hiking, fishing in altitude, real moments of wonder in the mountains to share.
Turn your smartphone into a hiking GPS with the application rando.vanoise.com available for free on the App Store and Google Play.
The park is home to twenty glaciers, more than 100 peaks above 3000 meters, 600 km of trails, forty refuges ... and forms, with the Italian National Park of Grand Paradiso (14 km of common border), the largest protected area in Europe.