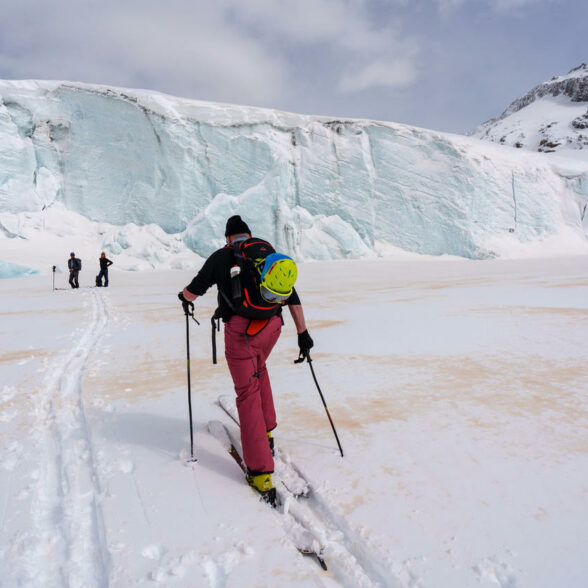 Ski touring from November to June!
In Bonneval sur Arc, the snow is there from autumn to early summer. Even in June, when theIseran road opens to traffic, it is not uncommon to see ski touring skiers heading for the Ouille Noire or the Col des Fours. Ski touring is in the DNA of the inhabitants and the village has been labeled "Land of Mountaineering" by the Unesco Committee for its ski touring culture. Bonneval sur Arc is also the resort of Thibault Anselmet, the leader of the French ski mountaineering team. The ski touring outings are numerous and the professionals, guides and instructors of the resort are there to make you discover them in complete safety. With them, you can for example go to the Evettes and then to the Grand Méan glacier and even ski on its frozen lake in the middle of winter!
Freeride resort !
On the freeride side, there are also countless possibilities. The resort is a real freeride nugget. We often see big skis and ABS bags in the resort, signs that do not deceive. With the return from the East, Bonneval sur Arc regularly benefits from huge snowfalls. When the snow cover is stable, all you have to do is enjoy it while respecting the safety rules. The instructors are there to accompany you and help you discover the best spots according to your desires and your level.
The resort offers so many freeride possibilities that it was chosen to host a round of the Freeride World Tour Qualifier, a competition that brings together the best French and European freeriders. Riders who come to draw lines and send big jumps on the resort. A spectacular competition! Before leaving the open and secure trails
Safety first
The mountain is a place of freedom and adventure. But before you leave the open and secure slopes to go into freeride or ski touring mode, always make sure you have respected the safety rules!
Check conditions with professionals, weather report, shovel, probe, ARVA. Be accompanied and tell at least one person about your route. No virgin face is worth taking a risk: in the mountains, you must also know how to give up and turn back or go a little further when conditions are not right.
The easiest way is to call on the resort's professionals and instructors who will accompany you in complete safety to enjoy the fresh snow and wide open spaces.
I choose a high mountain guide to accompany me
Methods of payment
Credit card

(3)

Check

(6)

Classic Holiday Voucher

(3)

Species

(6)

Online payment

(1)
You might be interested in...