Thibault Anselmet, world champion in ski mountaineering
Leader in ski mountaineering
Meeting with... The star of French ski mountaineering
Don't be fooled, under his airs of discreet young man and behind his fine physique, Thibault Anselmet hides the face of a committed competitor. A world champion ski mountaineer with a strong character.
In 2021, for his very first year on the senior circuit, Thibault Anselmet ended the ski mountaineering season (the competition side of ski touring) with a small globe in the vertical race and a second place in the overall World Cup ranking! In 2022, he confirmed this with a new second place in the overall ranking. A frustrating second place for this exceptional champion, naturally gifted, passionate about his sport, hard-working and attentive to every detail. Thibault then clearly announced his objective: to become world champion in 2023. This goal was reached in March 2023 with the title of World Champion in the mixed relay (with Emily Harrop) in Boí Taüll, Spain. During these championships, Thibault also won the silver medal in sprint!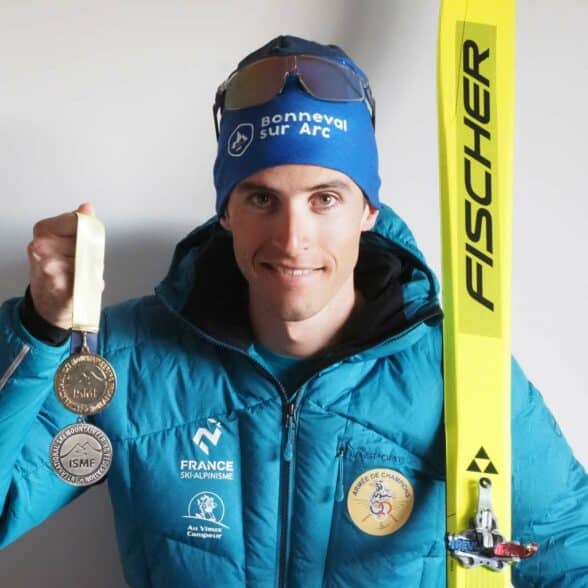 2023: World champion in mixed relay and vice world champion in sprint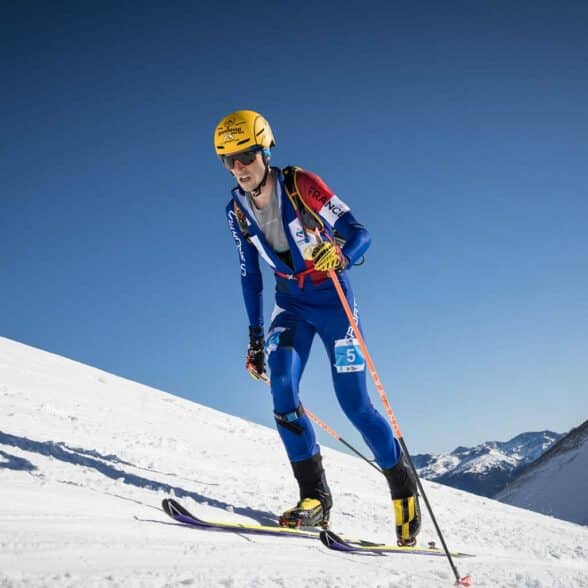 Like many local children, Thibault Anselmet started skiing when he could barely walk. Not surprising with a father who was a mountaineer himself. As a member of the Ski Club of Bonneval sur Arc (a resort labeled "Land of Mountaineering" by the UNESCO Committee), he did a series of picket lines before turning to ski mountaineering as a teenager. And very quickly, he followed in his father's footsteps. Between transmission and admiration: "He used to pick me up on Wednesdays at the boarding school to finish the day with dry climbs in our Haute Maurienne Vanoise resorts.
Ski mountaineering became much more than a discipline for the young Maurienne: "This sport is physically and mentally difficult and you learn a lot about yourself. You discover yourself. It also allows you to go wherever you want in the mountains, without being restricted to slopes or lifts.
Ski mountaineering is a family affair in the Anselmet family. During the 2023 World Championships, during which Thibault Anselmet became world champion, his brother Jérémy won silver in the U20 mixed relay!
A deep impulse of freedom
Inspired at a very young age by Kilian Jornet, benevolently advised by his father, supported by his municipality and the Tourist Office, Thibault Anselmet progressed very quickly. And his talent and abilities are not deceiving: the one who worked as a carpenter became in 2021 one of the only Frenchmen of the discipline to become professional thanks to a contract with the Army of Champions. From the top of his meter 83, the skier from Bonneval sur Arc has broad shoulders: "Obviously, my ambitions are higher. I'm aiming for a victory in the overall World Cup ranking and why not, also, an Olympic medal". The sprint and the mixed relay will indeed make their debut at the Milan Olympics in 2026: "This would clearly be a medium-term objective."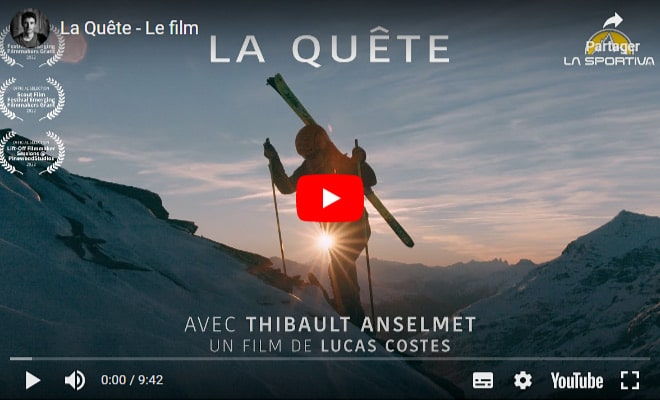 The Quest
In 2022, Thibault Anselmet set himself the highest goal in his discipline: to win the overall World Cup ski mountaineering ranking. He came very close to achieving this goal and ended up finishing 2nd.
Haute Maurienne Vanoise
Ski touring culture
Thibault Anselmet, a figure of ski mountaineering in France, is also a revelation of a "ski touring" culture well established in the Haute Maurienne Vanoise resorts. Races and events are regularly organized in the resorts (Trace du Châtelard in Aussois, Traversée des Rois Mages in Valfréjus, montée de l'Eterlou in La Norma...) and itineraries are specially designed in Aussois, Val Cenis and Bessans.
Bessans and Bonneval sur Arc are even labeled "Land of Mountaineering" by Unesco, thanks to this ski touring culture.
Although Thibault Anselmet is still young (he was born in 1997), the next generation of skiers is already there: Anselme Damevin and Louane Roussillon, from Val Cenis, are among the best young French skiers. Anselme won the world title in U23 at the 2023 World Championships and Jérémy Anselmet, Thibault's brother, also medaled at these championships. With such a density, Haute Maurienne Vanoise is now the land of ski mountaineering champions in France.